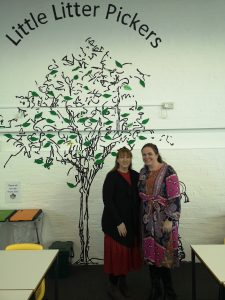 Carbon Neutral B&M Waste Services are singing the praises of their Little Litter Pickers Education Programme Leader, Maria Williams, who has been awarded the status of STEM Ambassador.
STEM Learning is the largest provider of education and careers support in science, technology, engineering and mathematics (STEM). They work with schools, colleges and groups who work with young people across the UK. Supported by a unique partnership of Government, charitable trusts and employers, STEM are dedicated to raising young people's engagement and achievement in STEM subjects and careers. Their vision is to achieve a world-leading STEM education for all young people across the UK.
STEM Ambassadors are volunteers from a wide range of science, technology, engineering and mathematics (STEM) related jobs and disciplines across the UK. They offer their time and enthusiasm to help bring STEM subjects to life and demonstrate the value of them in life and careers.
B&M Waste's STEM Ambassador Maria has written and delivers the 'Little Litter Pickers' Education Programme, which provides high quality, interactive visits to the company's state of the art innovation centre.  B&M offer a variety of events where they encourage and develop learning about the environmental impacts of waste, a very relevant and important STEM field.
To become a stem ambassador Maria, who works in a STEM field at B&M Waste Services and leads the Little Litter Pickers education programme, evidenced the work that she does and how this makes a difference, and ultimately encourages the future generation, to take an interest in STEM.
Maria commented "I am truly delighted to become a STEM ambassador, so that I that I can inspire future generations to think about our impact on the world we live in and hopefully develop that scientific interest over years to come.  It's truly wonderful to be part of such an amazing team."
Jayne Kennedy, Senior Marketing and Social Value Manager said "Having recently become a U.N. Accredited Climate Change teacher, Maria has yet again gone the extra mile in ensuring the very best quality of expertise and experience as she delivers our FREE Little Litter Pickers programme to local schools colleges and universities. Well done Maria, we are immensely proud of you!"
Those wanting to find out more about the FREE Little Litter Pickers Programme can visit www.bagnallandmorris.com/education