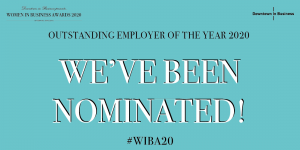 B&M Waste Services is delighted to have been nominated as one of four potential Outstanding Employers of the Year at the 2020 Women in Business Awards organised by Downtown in Business.
The category recognises business that goes the extra mile to support diversity and inclusion for their team.
B&M Waste Services Ltd is a family owned and operated company that puts its employees at the centre of their business.
At B&M, we want to create an atmosphere that encourages people to work to the best of their ability. Our family ethos is apparent throughout our organisation, from our induction with a Director to our charity work and company-wide social events.
All of our depots receive a weekly delivery of fruit for all of our teams to enjoy and at our head office, we put on a weekly yoga class for anybody that wants to join. But our wellbeing efforts go beyond physical actions. We work with our teams to offer services that make a real difference to them personally as well as professionally. This includes offering mindfulness and resilience sessions as well as mentoring training to ensure colleagues can support each other.
We know that there can be a tendency for people work through their lunches so we insist colleagues take a proper lunch break and have developed walking routes for each of our offices to encourage people to get out and about.
Our leadership team are committed to the health and development of all employees. As well as offering regular internal and external training, we also provide annual health checks, flu jabs, supply eye test vouchers and have an internal mental health first aider in addition to our regular first aiders.
Our Directors are continuously looking for new, different ways to show our employees that they are valued. Across all departments, we offer competitive rates of pay, above the national living wage and a company pension scheme with generous employers' contribution. At Christmas, we have given every staff member a turkey each year since we formed and for the last five years have also given a Christmas hamper for colleagues to enjoy with their families.
We believe that giving back is incredibly important and have chosen charities for all of our locations. We give our staff the chance to really get involved and participate, it's not just about the financial donations for us, Directors and staff alike give their time to the charities we care about on a regular basis.
Vote for us here: https://downtowninbusiness.com/awards/wiba/ 
Interested in a new career move? Check out our latest vacancies.