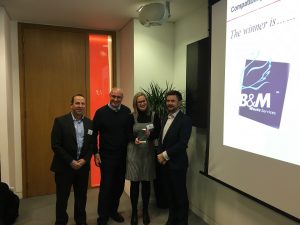 JLL PAM UK Supply Chain awards recognises top suppliers across the industry
Every year, JLL PAM UK hold their Supply Chain Conference during which the Company presents their top UK suppliers with recognition awards for their services over the previous year. The highly competitive programme acknowledges the suppliers that have helped JLL PAM UK deliver the highest quality of service, value and innovation to its clients. B&M Waste Services were delighted to be awarded with the Compatibility Award recently, in recognition of the recycling and waste services provided.
One of just three awards presented on the day, the Compatibility Award is based on JLL PAM UK's quarterly FM Satisfaction Survey, where B&M were rated highest out of all suppliers across the year.
Carbon-neutral B&M Waste Services provide JLL PAM UK sites in the North and Scotland regions with all of their waste and recycling services. As a result of working with B&M, JLL PAM UK North and Scotland divert 100% of waste away from landfill, recycling as much as they possibly can.
Graeme Knight, Major Accounts Director at B&M Waste Services said;
"We are absolutely delighted to receive this recognition of the services that we provide to JLL PAM UK. The award is a validation of the strong relationships that all our colleagues working on this account; from our account managers through to compliance and our drivers; have built up with the team. Knowing that the award is a direct result of their Satisfaction Survey makes it even more significant for us. We look forward to a long and positive relationship with JLL PAM UK."
Richard Curnow, Head of Procurement-PAM at JLL added;
"We'd like to congratulate B&M Waste Services for this award. Our Compatibility Award recognises the satisfaction of our Facilities Managers our service providers and B&M are a worthy winner."