Carbon neutral waste management company B&M Waste,  won the CSR Award at the Echo Environment Awards. B&M Waste were also finalists for the Green Business of the Year and former Education Programme Leader Maria Williams, a finalist as an Environmental Champion.
In light of Covid restrictions on events and gatherings of people, this years' event was hosted online with BBC North West Tonight's Roger Johnson comparing the evening.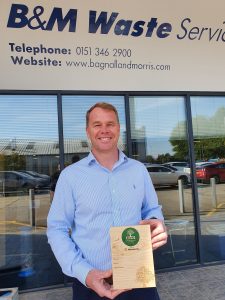 B&M Waste work in partnership with several charities across the UK, including with the national homelessness charity Crisis, with whom they received a 'Highly Commended Award' at the National recycling Awards 2019 for their Refuse not Refuge campaign which raises awareness of the dangers of sleeping in a bin. B&M Waste actively champion for all waste operatives across the UK to be trained to check each and every bin they empty for signs that someone may be sleeping in it. B&M Waste have also delivered informative sessions to local universities and colleges in the hopes of discouraging students from doing the same following a night out.
Last year, B&M Waste recruited an Education Programme Leader to lead the 'Little Litter Pickers' programme from the company's own Recycling Education Centre on the Wirral. 'Little Litter Pickers' encourages children to understand ways to reduce, reuse and recycle waste, and the wider environmental impact our actions today will have for decades to come. Until Covid restrictions came into force March 2020, the programme was popular with local schools with hundreds of students taking part in environmental learning.
Speaking about the CSR Award, Neil Curtis, Managing Director at B&M Waste Services, said: "Winning this award in recognition of our CSR efforts is fantastic. We continuously strive to deliver the most sustainable solutions to our customers and communities whilst remaining supportive to our long-standing, local charities. I'm really pleased that the efforts of the wider B&M team that we have been recognised"