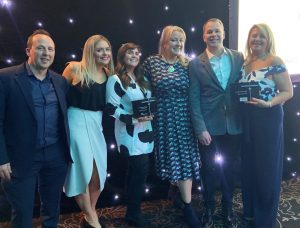 Carbon Neutral, B&M Waste Services last Friday won not one, but two prestigious awards at Downtown in Business' Women in Business Awards. Triumphing in both the Employer of the Year and the Business of the Year Award categories.
Neil Curtis, Managing Director said "We are thrilled to bits with the win – two awards, fantastic! Without a great team of people providing excellent customer service we wouldn't be where we are today and I can't thank our loyal customers and employees enough. It's great to be working in such a diverse and prosperous city, where businesses are so enthusiastic about waste reduction and protecting the environment."
Providing businesses with a waste reduction, reuse and recycling services with a goal of zero waste to landfill, B&M Waste have been Carbon Neutral across the business since 2011 and were recently assessed to PAS 402:2013 level, ensuring customers receive a truly environmentally friendly service. Employing over 95% of their staff from within their operating area, the company continues to grow in the North West, West Yorkshire and the West Midlands. As a company who cares, they work tirelessly to improve the communities they work in by reducing the impact of business waste, supporting local charities and planting trees to offset carbon emissions.