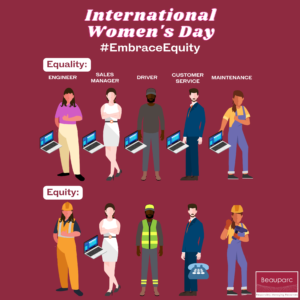 At Beauparc we are embracing equity and celebrating International Women's Day, an opportunity to reinforce that Diversity and Inclusion is, and will continue to be an important part of how we work as an organisation. It is fundamental to our long-term success and performance that we attract & retain employees with different experiences, backgrounds, thoughts, and knowledge and create an inclusive environment to enable this diversity to grow, develop and innovate, creating equity for all employees.
The theme of #EmbraceEquity this year, gives the whole team the opportunity to cultivate an equitable workspace. One that celebrates uniqueness of not just our own people, but of all within our community, and aims to provide considered resources to ensure the success of all.
Reviewing 2022
As we stated back in 2022, we are under no illusions that one calendar event does not signify the effort and actions we're all taking and need to continue to take to put DE&I at the heart of our business as a cornerstone of our culture.
Over the past year we have continued to increase our focus on DE&I including:
Development our first group DE&I policy
Recruitment of our first senior female leader
Employee engagement surveys and employee forums
Continued focus on recruitment of employees from different backgrounds and experiences
Focus on our early careers and future pipeline of employees
Increase health and safety and the wellbeing of our employees in the working environment
Demonstrate through real life case studies how equity is invested within our organisation
Aspirations for 2023
Going forward our focus will be on:
Increasing awareness & understandingof diversity and how an inclusive workplace is good for employees, our customers and our performance
Increase our focus on leadership and people management training, enable our managers to create an engaging and inclusive workplace for all employees
Introduce employee involvement forums (Resource groups) whereby we can engage employees, including minority groups and get first hand feedback on how we can change and improve our environment. In particular, our understanding of how we make 'equity' a reality.
Continue to celebrate through events & communications to bring our employee stories to life and promote individuals and teams across our business
Increase our focus on creating a more diverse workforce, through changes to our sourcing and selection processes.
Further develop our DE&I strategy, plan and proactively update our policy as the business develops
Case study 1 – developing existing employee equity
To illustrate the value of equity, we have pieced two case studies from within our business.
10 years ago, we recruited an individual to join the Beauparc business as a Weighbridge Operator, helping with administration, wages, holiday trackers and reporting. Showing huge potential and a passion for career development, she met with her line manager which led to an implementation of a performance development plan to assist with her progression in the business.
The personal development plan has been tailored to her requirements, supporting her through a degree, while allowing for time off to attend educational sessions, exams, and providing the necessary financial assistance to cultivate her next career placement. Fast forward to today, she works in a supervisory role with 120 direct reports with day-to-day people management responsibility.
This is a fantastic example of embracing equity within the existing business through observing the success of team members by investing bespoke support that enables the effectiveness of Beauparc's DE & I policy in operation.
Case study 2 – developing equitable environments
As a business, it is important for us to foster diversity and inclusion through equitable talent acquisition practices. A creative, knowledgeable, neurodivergent and ambitious employee, who has recently joined the business in the UK, has engaged in conversation with the hiring manager and HR early in the onboarding journey. This helped both parties identify what tools, resources, and support the individual requires for them to be able to work effectively in their role. The Company has connected with Exceptional Individuals organisation and is currently utilising the publicly funded employment support programme Access to Work. We want to ensure that the support is tailored to meet the needs and aspirations of our employee while supporting their professional and personal development in the business.
As we move through 2023, we intend to introduce areas of the DE&I policy to our staff and stakeholders. Ensuring a full understanding of every element of the policy in our environment is critical to changing more widespread culture.
Learning sessions, selecting responsible supply chain, and embracing DE&I within our business will all play core roles to ensuring success.
So, what are the next steps……….
Throughout the business, we'll be holding toolbox talks over the forthcoming weeks to highlight equity.
We will introduce equity related training content to raise awareness across the business.
Collectively, we will create a roadmap to release DE&I learning for all the team.