Carbon Neutral waste management company, B&M Waste Services, have been awarded 'Plastic Free Champions' Status by Surfers Against Sewage (SAS) as part of their Plastic Free Communities campaign. The marine conservation charity has recognised the efforts made by B&M Waste to lower the impact of single-use plastic on the environment, and allowed them to join a network of communities across the country in fighting against throwaway plastic.
The movement began last summer, and was masterminded by Local Regional Rep, Becks Gillmore. The idea behind the campaign is to encourage businesses to eliminate their usage of avoidable single-use plastics and to change the system that produces it, as well as inspiring the wider community to free where they live from single use plastics also. The project was inspired by the regular beach clean ups that were carried out by SAS.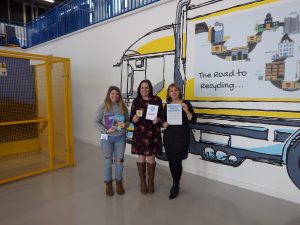 Becks Gillmore was extremely pleased by the commitment that B&M Waste Services have made to reducing the dependence on single-use plastics, and said; What an honour to have B&M Waste sign up, firstly to want to help the surrounding environment and protect our waters. But also to join forces with SAS Wirral is such a privilege as it will help create stronger relationships within the community. We give every business proposed actions for the future, and I have never had such a quick response for a business working on these actions. B&M Waste's site was pretty good, it just needed some of adjustments. I know they are already implementing the changes and passing them on to your customers, which shows so much dedication, passion and commitment to the cause of coming away from single use plastics.  And this is why working together within the community is so important, it gives the environment a louder voice."
Jayne Kennedy, Marketing Executive at B&M Waste Services, spoke of the company's delight at being involved in such an important project by saying; "We want to lead the way and encourage more and more businesses to lessen their usage of single-use plastics. The same goes for our customers, to not just consider recycling but to look at waste reduction and re-use programmes."
Education Programme Leader at B&M Waste, Maria Williams, was also passionate in describing the importance of the programme and promoting it amongst schools; "We are currently running a 'Little Litter Pickers' programme, and it is vital that we spread this message to the next generation so that we can develop a mind-set which involves waste reduction and making positive choices with regards to the environment.
You can find out more about the SAS Campaign here.